FREE Digital and Telehealth Complex Mental Health Support
SANE provides FREE digital and telehealth support for people over 18 years of age with
complex mental health issues and their families and carers. Our services also support
people with intellectual disability, autism or acquired brain injury who are experiencing co-
occurring mental health issues.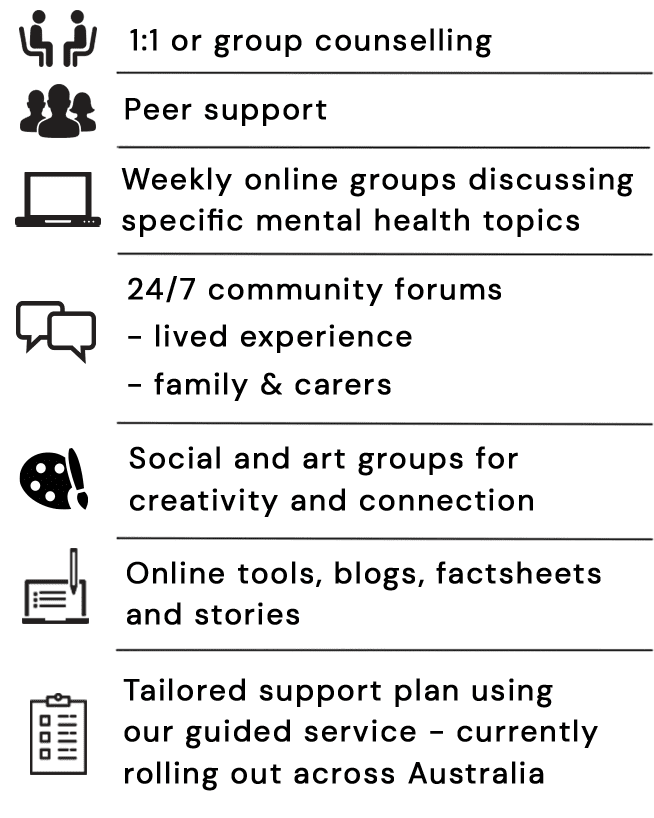 Choose from a range of drop-in support services, including telephone, online and video counselling, peer support sessions, online discussion groups, art groups, other online social groups, interactive website tools, easy-to-read information, and SANE's professionally moderated community forums, accessible 24 hours a day.
Depending on where you live in Australia, our support team may also discuss a tailored support plan with you.
You can feel comfortable reaching out to SANE. SANE's inclusive services have been informed by intellectual disability advisory bodies and people living with intellectual disabilities and co-occurring mental health issues.
Our support staff – across counselling, peer work and group facilitation – have received training in how to support people with intellectual disability. We will take the time to listen and understand your needs and preferences and help you access the resources and support most beneficial to you and help you achieve your wellbeing goals.
Navigate SANE's free support services through sane.org (including web chat) or reach out to the SANE support team.
Call: 1800 187 263 (10am-10pm Monday to Friday)
Email: getsupport@sane.org